The Jet Peel is a non-invasive multi-step dermal infusion system that delivers immediate visible results without downtime or skin irritation!
Concentrated oxygen combined with special cleansing concentrate for gentle deep cleansing with the cooling and calming action. This will be the leading method of the future for treating skin conditions such as loss of elasticity, wrinkles, uneven pigmentation. Scientifically approved for effectiveness and safety. Concentrated oxygen combined with special concentrate acts stimulating and tightening the face contours. Oxygen and concentrated active ingredients for the gentle treatment of highly sensitive skin following plastic surgery, laser treatments, blue peel, AHA's, impure skin, sunburn or just for relaxing pure oxygen massage.
The Solution to Reveal Healthy, Refreshed, Glowing Skin!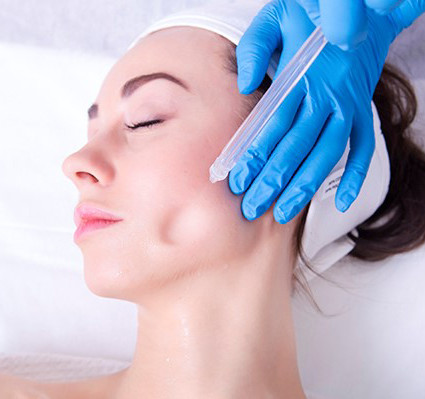 The Jet Peel is ideal for all skin types, improves overall skin health, and effectively treats the following:
Fine Lines & Wrinkles
Uneven Skin Tones
Dry Skin
Dark Circles, Under eye bags
Sun Damage
Loose Skin
Enlarged Pores
Signs of aging
Acne & Blackheads
Oily & Congested Pores
Glowing, bright Skin
Provides tightening and lifting on loose skin
Hydrates
Improves circulation
Exfoliates dead skin
Decreases the appearance of pores
Improves fine lines and wrinkles
Under eye "de-puffing" & Brightening
NO DOWNTIME!